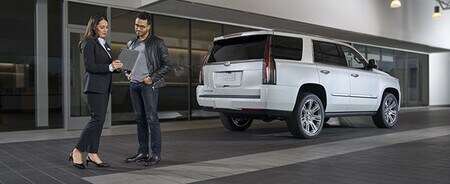 We Accept All GM Lease Returns
Thanks for visiting Arrowhead Cadillac to learn about your end-of-lease options. Whether you're currently leasing a Cadillac or another GM model, we make it easy to transition into any of the options explained below. Simply schedule an appointment for your free end-of-lease inspection, and we can start discussing your next move.
OPTION 1: LEASE A BRAND-NEW CADILLAC

Most drivers want loaded vehicles that have every new option and feature available. They like having a world-class automobile that is years ahead of other models on the roads. If you currently own a Cadillac, you're already familiar with the first-rate infotainment features, state-of-the-art safety technology, and world-class performance offered by Cadillac. However, you may wish to lease a newer model with all of Cadillac's latest upgrades.
If you own another GM model and have an interest in transitioning to a Cadillac, we can assist you as well. Our dealership stocks a large selection of brand-new Cadillacs that are fully loaded and ready for sale. You can come in to test drive any model on our lots and begin shopping by clicking on the button below. In addition, you can opt to purchase a new Cadillac rather than lease if you're ready for long-term ownership.

OPTION 2: EXTENDED LEASE OPTION
You can renew and extend the lease on your current Cadillac if you want to cash in on big savings and maintain the comfort of your current car. When you extend your lease, you also give yourself an opportunity to wait until a more elite model comes out with bigger upgrades. If you feel your current lease is still too new to change over, this may be a good option for your needs.
OPTION 3: CADILLAC BUYOUTS
Your lease contract has a buyout price that allows you to simply pay for your leased Cadillac and own it outright. For drivers who've had a really good experience with their Cadillac models, this option is tempting. You can keep your Cadillac and it will hold its value very well. Some drivers also choose to buyout their Cadillacs and pay full purchase price because they have incurred excess mileage and wear. Instead of having to pay penalties and additional fees to lease a newer model, purchasing could potentially be a better option depending on your circumstances. No matter what you decide, we are always available to provide more information on your end-of-lease options.
Hours
Monday

8:00 am - 8:00 pm

Tuesday

8:00 am - 8:00 pm

Wednesday

8:00 am - 8:00 pm

Thursday

8:00 am - 8:00 pm

Friday

8:00 am - 8:00 pm

Saturday

8:00 am - 7:00 pm

Sunday

10:00 am - 6:00 pm
Make an Inquiry
* Indicates a required field